with bottomed thread • thread protected  • centered operation  • compact design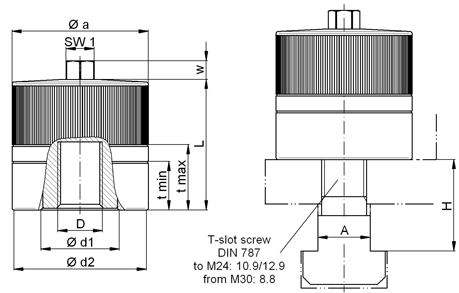 Material:
heat treated steel – nitro carburized
cover plate: high tensile aluminum
Technical data and dimensions [mm]: length dimensions according to DIN ISO 2768 mH
MCA
size
nominal
clamping
force
[kN]
thread
D*
(6G)
nominal
actuation
torque
[Nm]
max.
static
load
[kN]
T-bolt
A
weight
approx.
[kg]
Øa
Ød1
Ød2
L
screw-in depth
t
min/max
SW1
w
60
60
M 12
M 16
M 20
20
25
30
70
120
120
14
18
22
0,9
62
32
60
50
16 / 24
13
10
100
100
M 16
M 20
M 24
M 30
35
40
45
50
130
200
200
200
18
22
28
36
1,8
73
42
71
70
25 / 35
15
10
150
150
M 24
M 30
M 36
M 42
60
70
75
80
300
300
300
300
28
36
42
48
2,5
2,4
2,3
2,2
83
52
81
75
30 / 40
17
12
200
200
M 36
M 42
M 48
M 56
M 64
90
95
100
105
115
400
450
450
500
500
42
48
54
-
-
4,9
4,8
4,7
4,5
4,3
120
82
118
80
35 / 45
19
12
* Property class of threaded bolt up to M 24 minimum Q 10.9; from M 30 Q 8.8 (further thread sizes i. e. inches on request)
standard thread tolerance 6G
Note:
For optical control of actual screw-in depth of the T-bolt, two grooves have been provided on the housing circumference matching tmin and tmax. When laying out the actual screw-in depth of the threaded bolt, the necessary stroke must be considered, i. e. the max. specified screw-in depth must be reduced at least by the amount of the stroke.
max. allowed temperature range: -30°C up to +200°C (optional up to 400°C)
The nominal clamping force can be influenced considerably by various parameters, such as thread length, surface quality, or thread greasing.
Ordering example:
clamping nut (1*) MCA 100 – (2*) M 24
incl. T-bolt (1*) MCA 150 – (2*) M 30 – (3*) 100 – (4*) 36
(1*) series and size
(2*) thread size (T-bolt screw thread according to DIN 787)
(3*) clamping height (H = 100 mm)
(4*) width of T-bolt (A = 36 mm)